This Working group has been established on the grounds of Common Declaration for establishing of Regional Youth Cooperation Office, signed by Prime Ministers of six Western Balkan countries (Serbia, Bosnia and Herzegovina, Kosovo, Albania, Macedonia, and Montenegro) on 27 August 2015, at the Conference on Western Balkan. This conference took place in Vienna and the working group moderated representatives of French and German Youth Cooperation Office.
Working group is composed of representatives of Governments from the region and civil society organizations and has 13 members (one representative of the government and civil society from each signatory country). Edin Koljenovic, Coordinator on Good Governance Program is representative of Montenegrin civil society organizations.
The first meeting of Working group was devoted to the team building, doscussion about the manner of work of the Working group, defining of rules and basic directions of work in the following period. According to the plan that has been adopted, Working group will organize three more meetings until the end of its mandate (Tirana, Sarajevo, Belgrade) and will afterwards have to answer on a number of questions and have final proposal of this regional organization, which will be offered to the regional Governments.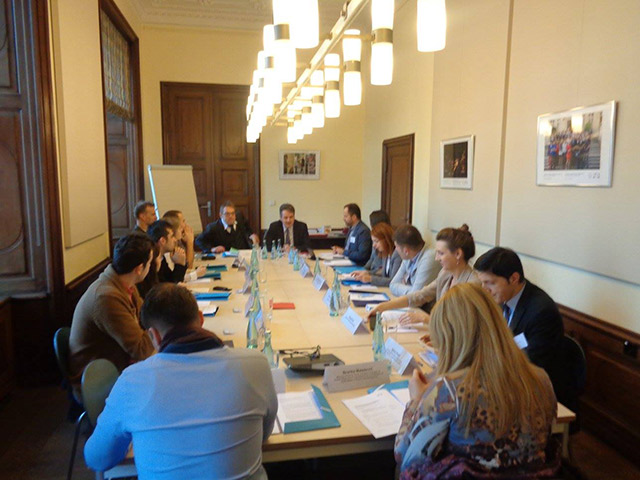 During three days meeting, Working group met with earlier work of previous working bodies, all documents that were created and the process that is taking place at the political level in the region. Meetings that took place were with representatives of French and German Office for youth cooperation, German and Polish Office for Youth Cooperation, and meetings with representatives of diplomatic missions of countries that are participating in the process in order to talk about experiences and challenges working group will face with in the following period.
During the last day Working group talked about matters that will esseantially be topic of the next meeting, such as the Mission, Structure, Financing and Programs, based on the previous proposals. In this phase, Working group identified as the best challenge matter of the seat of this regional organization, since Tirana and Belgrade were proposed at the Conference in Vienna for the first time by two Governments (Serbia and Albania). Two other Governments have not expressed their oppinions on this, which represents the first step in defining of remaining matters related to this international organization.
This process was officially part of the Berlin process and specific result are expected until the next conference on Western Balkan that will be organized in Paris, in August 2016.