On International Day for Tolerance, we can conclude according to numerous parameters that the capacities of Montenegrin society for tolerance, which were primarily based on the principles of Marko Miljanov and anti-fascism, are disappearing.
This day should remind all people in the world that respect and appreciation of differences is a condition for peace, stability and progress of peoples and nations. This is why we wish to remind today that on November 16, 1995, the UN member states adopted Declaration of Principles on Tolerance, which emphasizes that tolerance is neither indulgence nor indifference, but respect for a wide range of cultures, forms of expression and humanity and represents recognition of universal human rights and freedoms of others.
For tolerance to exist, there must be willingness and readiness to accept what is different from what we are used to or what we personally believe in. Respect, acceptance and appreciation of the richness of diversity is especially important for us in Montenegro and it is the basis for improvement and progress, but above all – it is a way to be human. However, ethnic distance has never been greater, people with disabilities, Roma and Egyptians, members of the LGBT community have been predominantly excluded for decades and they are in difficult living conditions. Women work for a lower salary than men, domestic violence is very widespread with generally accepted social tolerance of this phenomenon, war crimes are unexplored, and the motives that were dominant during their execution are alive almost in the same percentage and at all levels – from sports fields, political events to peer violence.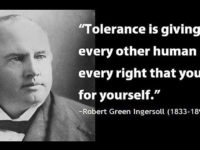 We will also wish to remind that Montenegro was a refuge for many refugees during the war of the 1990s and showed a high level of tolerance, but it seems that we have not learned that tolerance needs to be nurtured and upgraded. Our capacities for tolerance seem to have disappeared, so instead of boasting about interculturalism, we are racing to show that we are better than those "others". And like never before, we do not want to hear a different opinion, hence the culture of dialogue is at a low level.
The new political, economic and health reality must not be an obstacle, but an additional stimulus for the state of Montenegro to appreciate and value tolerance as our wealth. This must be especially evident during the greatest crisis of today, COVID-19, which has brought new challenges to Montenegrin society, and which is already troubled by the burden of several years of transition. The institutions of the system must, through concrete activities and actions based exclusively on adopted international and domestic standards in accordance with human rights and the rule of law, send strong and direct messages to society on this day and all other days in order to promote universal human values. They must be thoroughly and long-term incorporated into all social structures and must not be put into question, otherwise we will not leave much of the legacy we are proud of to future generations.